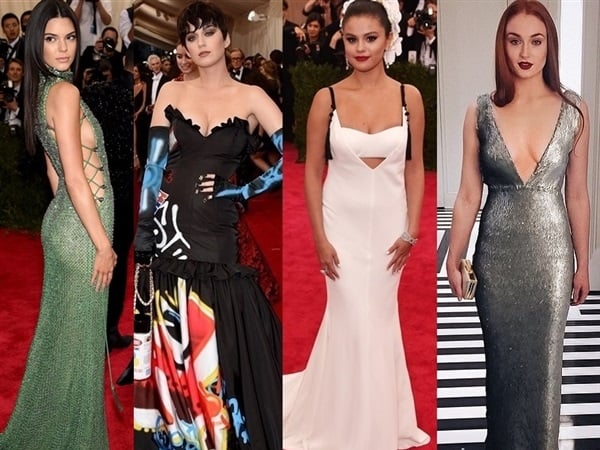 ---
Every year the Met Gala draws celebrity whores from all corners of the entertainment industry to New York City, so that they can try and one up each other in stupid dresses on the red carpet. This year of course was no exception, and perhaps because the gala's theme was "China: Through the Looking Glass", the shoddy celebrity gowns made by child labor seem particularly vulgar.
Below we have compiled photos of the best of these Met Gala celebrity sluts, with the first being 18-year-old "Game of Thrones" star Sophie Turner showing that she is ready for more mature roles (and possibly a gang bang in the bathroom) in an extremely low cut silver dress which highlights some deep cleavage.
Next we have reality TV star and Armenian gypsy Jezebel Kendall Jenner in a form fitting green dress which shows off a good amount of side boob. No doubt Kendall's father Bruce will be borrowing this outfit soon.
Of course no list of sluts would be complete without mentioning Selena Gomez. Selena is wearing an Asian inspired white dress and headpiece, which she perfectly compliments with rolls of her back fat that would make Buddha himself envious.
Lastly we have the new and improved Katy Perry. As you can see Katy recently chopped off all of her sinful feminine hair, and adopted a much more androgynous look. If Katy would just cut off her womanly bulbous boobies next, she may just be halal enough for us Muslims to sodomize in the dark when none of our Bacha Bazi (dancing boys) are around.