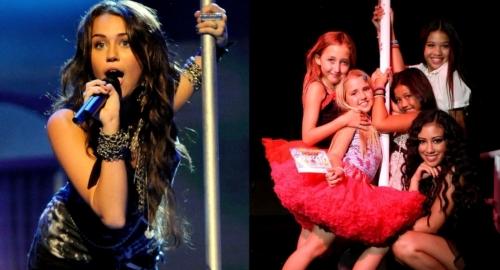 ---
16 year old Miley Cyrus performed at the Teen Choice Awards last night and danced on a stripper pole in her classy booty shorts and black boots.
Backstage Miley's 9 year old little sister Noah played on a stripper pole with her friends (Not pictured is Papa Billy Ray Cyrus holding a wad of singles). Why there is a stripper pole backstage at the Teen Choice Awards is anyone guess? But it probably has something to do with the "Free Candy" sign on the janitor's closet.
Noah is just your typical 9 year old. She likes to wear a ton of makeup, short puffy skirts, and black leather boots, all while blowing kisses at strange men who are photographing her.
If there is one thing the entertainment industry loves to do it is to sexualize America's youth. MTV's "16 and Pregnant" is not going to cast itself after all. And if MTV picks up my show idea "15 and Horny" we'll definitely be needing more young sluts out there.