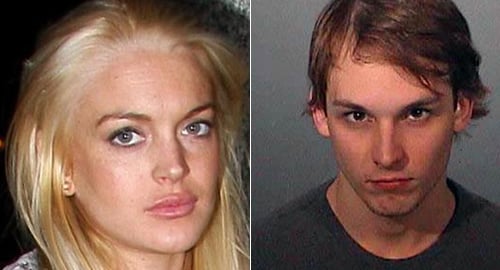 ---
Police have arrested a man named Nick Prugo for allegedly burglarizing Lindsay Lohan's apartment (surprise; he's supposedly her former coke dealer).
CelebJihad has obtained an exclusive list of the stolen items that police have recovered thus far.

Lindsay's beauty and youthful appearance (although both were damaged beyond repair).
A RealDoll in the shape of FES from That 70's Show.
The mummified head of her British "twin" from The Parent Trap.
15,000 unopened copies of her album, A Little More Personal (Raw)
A picture of her and Michael Eisner at Knott's Scary Farm marked "evidence"
A monkey's paw with one wish remaining.
An autographed copy of the book, How To Get Famous, by Anne Heche
A DVD of Snatch (not the Guy Ritchie movie)
Samantha Ronsin's favorite cock ring.
Herbie. Fully loaded. With Mescaline.
---
Special thanks to Eric Filipkowski, Jon Mitchell, and Marty Platinum.
Did we forget any items? Let us know in the comment section.